Can You Shower During Ramadan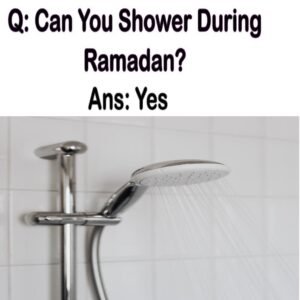 Yes, you can shower during Ramadan. In fact, it is recommended to maintain good hygiene during the holy month of Ramadan. Muslims are required to fast from dawn until sunset during Ramadan, but this does not include abstaining from showering, bathing, or using water for other purposes.
It is important to note that while showering or bathing, Muslims should avoid swallowing water or allowing it to enter their nostrils, as this can break the fast. Additionally, it is recommended to avoid using scented soaps or perfumes while fasting, as their smell can stimulate hunger and thirst.
In summary, it is perfectly acceptable and even encouraged to maintain good hygiene, including showering, during Ramadan, as long as care is taken to avoid breaking the fast.
It is online Quran Academy to Join Our Online Quran Classes

Register Here

Three Days Free Quran Classes 
Contact Details

+1 352 464 8059

+92 333 8182884

LearnQuranWeb1